SKU:Shinya Koso_DIET Enzyme_180
Brand:Shinyakoso
Shinya Koso Yoru Osoi Late Night Meal DIET Enzyme 180 tablets - Gold Gohandemo
Expiry May 2023
Active enzyme, Turmeric 50mg
New formula new packing launched end 2021

Made in Japan
Size : 180 tablets in one bag
Eat 6 pcs 30 mins before or after meal with lukewarm water
Shinya Koso Japan has been producing high quality enzyme without heat treatment which kills living enzymes. Shinya's enzyme helps to dissolve foods and not to absorb carbohydrates, fats and proteins. It is suitable for the people who have irregular meals on regular basis.
Ingredients: Maltodextrin, rice koji powder, isomaltooligosaccharide, yeast peptide, koji mold culture extract, turmeric extract powder, indigestible dextrin, koji mold culture sub-grain extract -GF, yeast (zinc-containing), cinnamon powder, α- lipoic acid (thioctic acid), ginger extract, papaya processed goods, spore lactic acid bacteria, yeast (chromium content), L- Karunichinfumaru salt, virgin coconut oil powder, Gymnema sylvestre extract, dextrin, black pepper extract / crystalline cellulose, stearic acid Ca , silicon dioxide, niacin, (from crab shrimp) chitin chitosan, vitamin B2, vitamin B1, vitamin B6, folic acid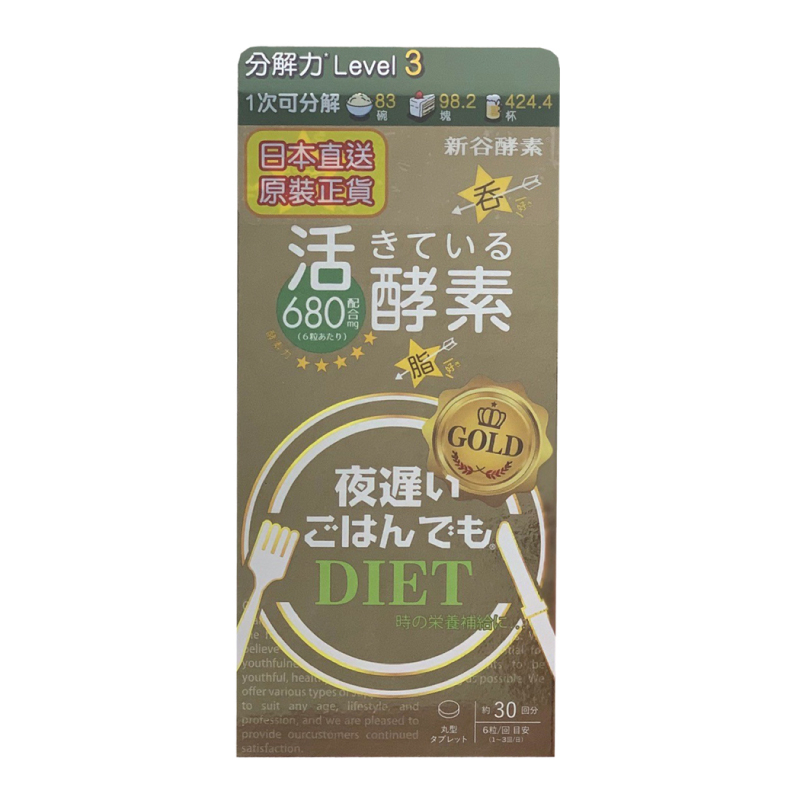 View 100% HB$ Deals terms & conditions
100% Good
Total 0 persons submitted
Excellent(100%)
Good(0%)
Poor(0%)
You can submit review too.
PriceUS$32.41 Shinya Koso Yoru Osoi Late Night Meal DIET Enzyme 180 tablets - Gold Gohandemo Sales Discount Shopping.