SKU:SSDS-SET
Brand:Sulwhasoo


Sulwhasoo Snowise Brightening Whitening Set
This set contains:
- Snowise EX Whitening Water 125ml
- Snowise EX Whitening Emulsion 125ml
- Mini Snowise EX Whitening Water 15ml
- Mini Snowise EX Whitening Emulsion 15ml
- Mini Snowise Brightening Serum 8ml
- Mini Snowise Brightening Cream 5ml
- Mini Snowise Brightening UV Protector SPF50+/PA++++ 5ml
Sulwhasoo is the first luxury skin care brand to blend cutting-edge science with time-tested holistic skin wellness drawn from Korean herbal medicine, combining ancient herbal ingredients with modern delivery systems. Rooted in ancient wisdom, Sulwhasoo's philosophy centers on treating the root cause of imbalance to restore skin's youthful health and vitality.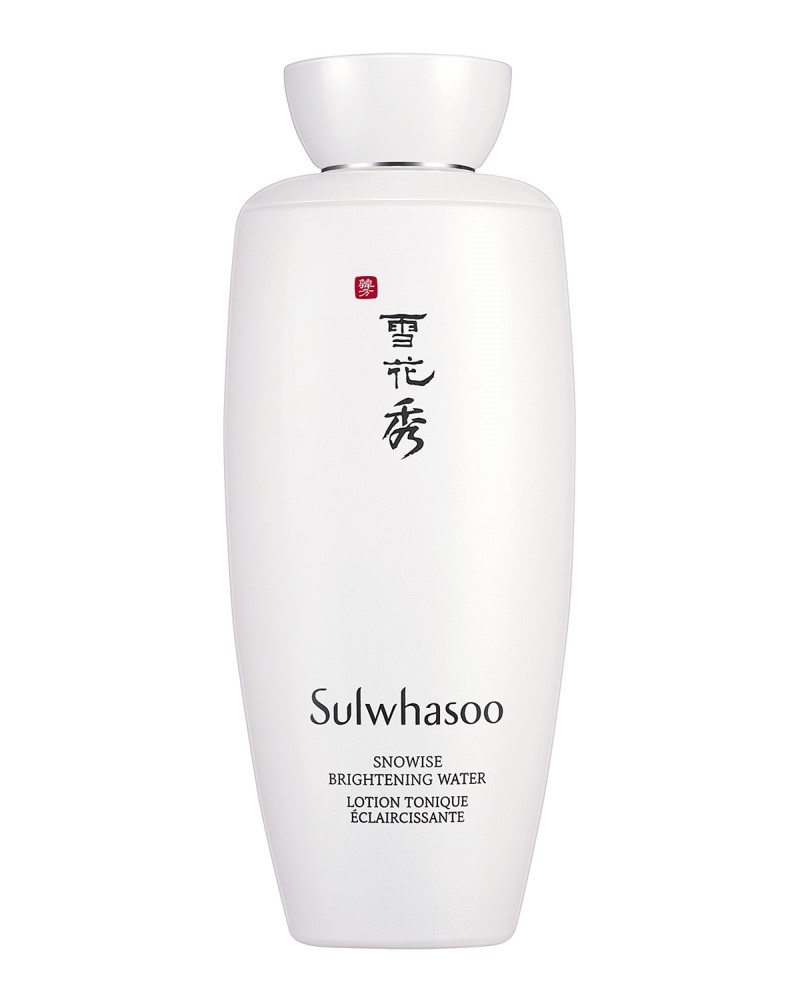 Sulwhasoo Snowise Brightening Water 4.2oz/125ml + 15ml

A gel-textured water that delivers hydration, preparing skin for brightening products that follow.

What It Does:
- A gel-textured brightening water tidies up rough skin and helps improve skin's brightness.
- Paper mulberry root extract helps brighten the skin and helps improve the overall complexion for a clear and translucent look.
- This water helps even out your skin texture and helps boost the absorption of the skin brightening products you apply next.
- The gel-type water texture absorbs quickly, leaving your skin richly hydrated with a light finish.

How to Use:
After using First Care Activating Serum EX, dispense a moderate amount on your palms and spread evenly across starting from the center of your face. Gently tap your skin to boost absorption.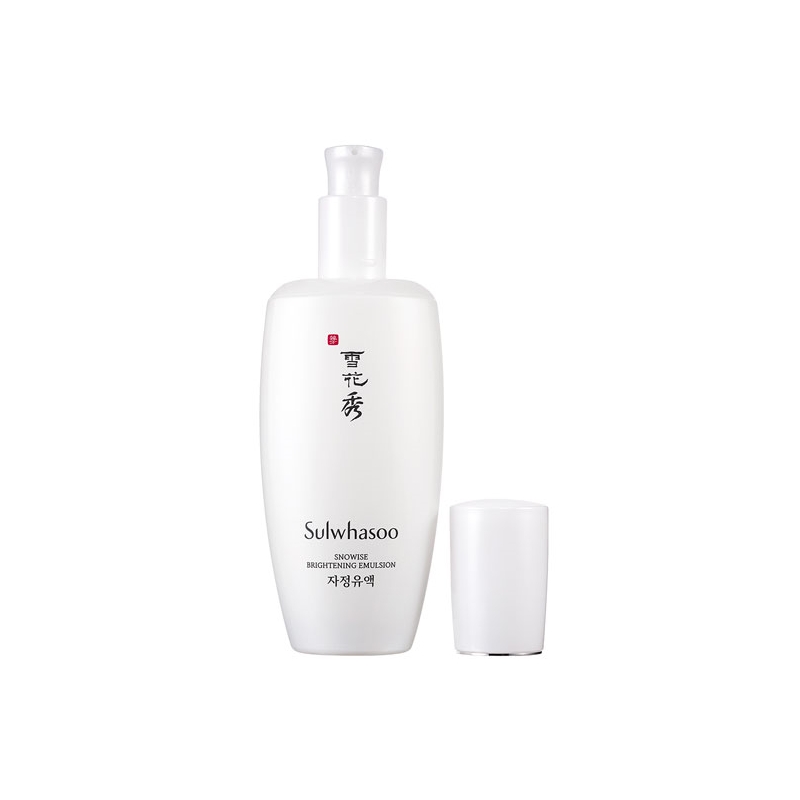 Sulwhasoo Snowise Brightening Emulsion 4.2oz/125ml + 15ml

A brightening emulsion that promotes smooth and translucent-looking skin as it spreads softly over the skin.

What It Does:
- A brightening emulsion that helps improve skin's luminosity.
- White Cloud Grass helps minimize the look of skin pigmentation and helps improve your skin for a clear and translucent look.
- Green tea extract, which has the effect of enhancing the look of skin's overall condition, brings a healthy, bright appearance to the skin.
- The light and hydrating emulsion makes skin smooth as it spreads softly and absorbs quickly.

How to Use:
Use after applying Snowise Brightening Serum, day and night. Pump a moderate amount onto your hands and gently spread across your face.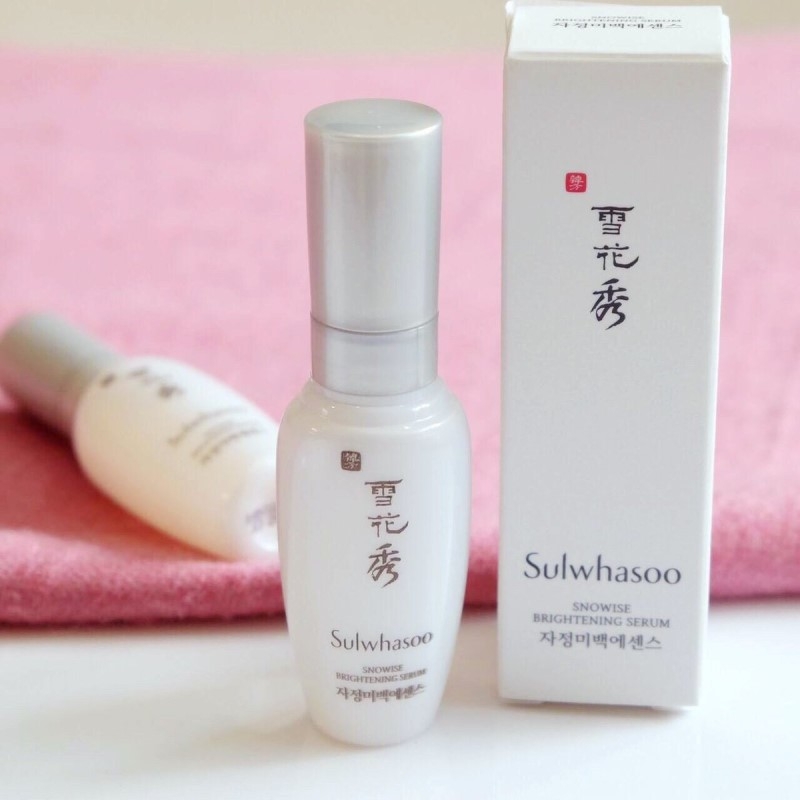 Sulwhasoo Snowise Brightening Serum - 8ml

A brightening serum with White Ginseng as a key ingredient to boost skin collagen.

White Ginseng Saponin and White Ginseng Polysaccharides to firm up the skin and suppress excessive melanin production. In addition, to keep the skin hydrated and achieve skin clarity as if it glows from within.

Have been applied to the soothing and circulating efficacies for easy penetration with exceptional skin-friendliness.

How To Use:
Use appropriate amount and apply gently massage on your face after toner & emulsion.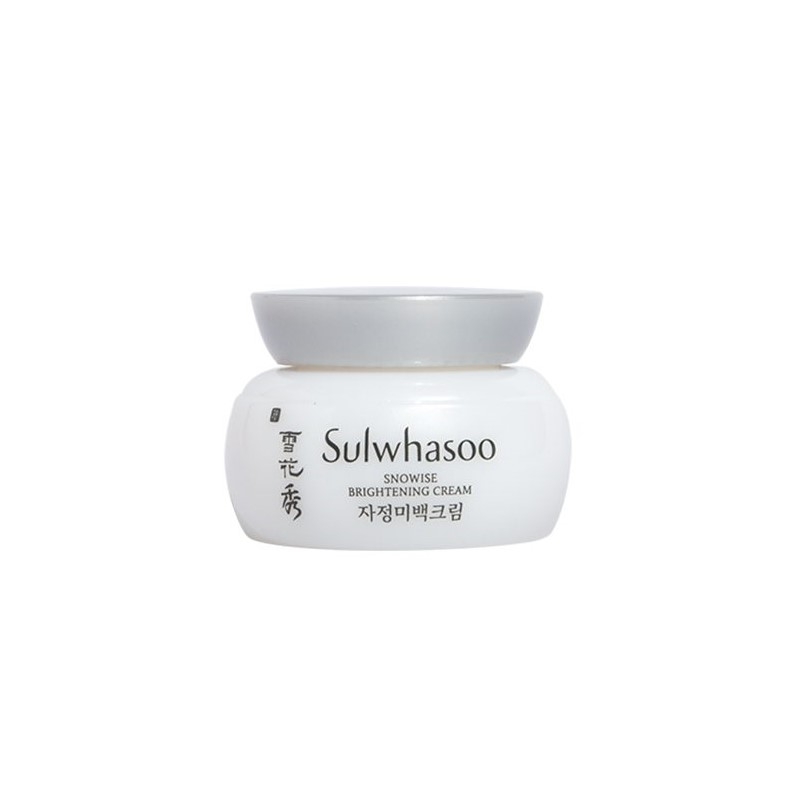 Sulwhasoo Snowise Brightening Cream 5ml

White ginseng-based brightening agent absorbs every layer of skin

The white ginseng polysaccharide extract seeps into the skin with moisture, while minimizing skin sallowness and uneven skin tone. This cream strengthens your skin's barriers and allows a healthy glow to radiate from beneath.

Caring for even skin tone

Formulated with White Cloud Grass extract and cactus extracts that retain water and color in the harshest of environments, this cream soothes your skin and helps to protect the moisture and nutrition needed to maintain an even skin tone and healthy looking color.

Texture like silk on skin

Low viscosity cream glides on smoothly and evenly for wide-coverage , leaving your skin silky soft and supple.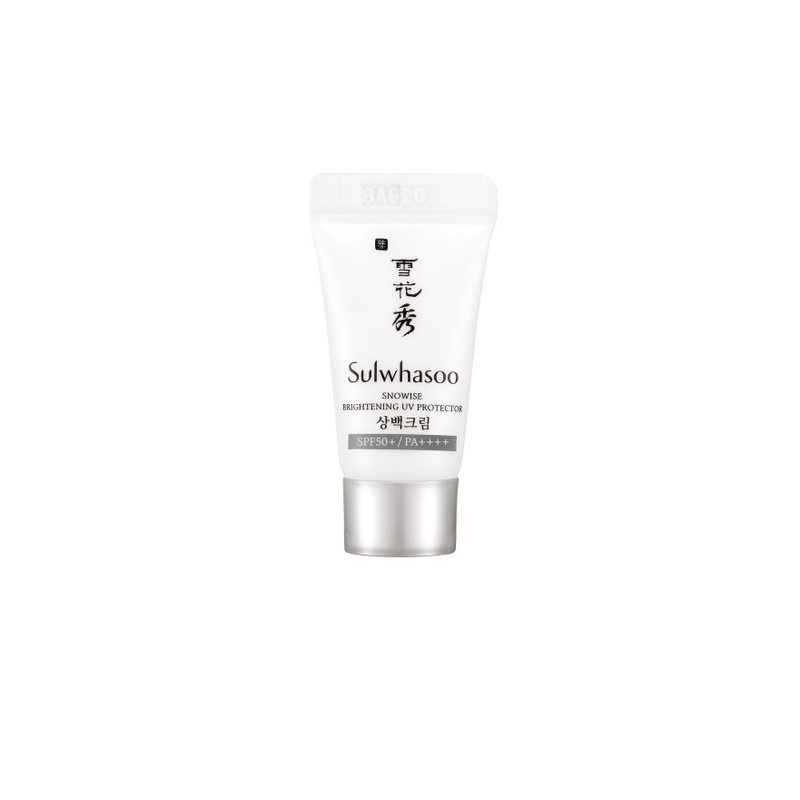 Sulwhasoo Snowise Brightening UV Protector 50ml

Strong UV protection
With SPF50+/PA++++, this sun cream helps protect your skin from strong UV and photoaging caused by UVA.

Alleviates dark spots by helping prevent skin pigmentation
Sulwhasoo discovered that harmful irritants that surround us every day cause excess amounts of pigmentation to form. Snowise Brightening UV Protector helps prevent skin pigmentation caused by melanin and helps for clearer looking skin.

Uses texture technology for an even skin coating
Using Sulwhasoo's unique technology, this skin coating texture creates an even protective layer that helps prevent harmful irritants from sticking to the skin.

How to use
Apply a moderate amount evenly across the face as the final step of your morning skincare routine.
View 100% HB$ Deals terms & conditions
100% Good
Total 0 persons submitted
Excellent(100%)
Good(0%)
Poor(0%)
You can submit review too.
PriceUS$108.05 Sulwhasoo Snowise Brightening Whitening Set Sales Discount Shopping.