Weekend Sale 3
28Mall.com member RM1288 for Nov 16 - 18 only for PARROT BEBOP 2 & SKY-CONTROLLER BLACK EDITION. Usual RM3456. 100% Original Brands. Not a member yet? Join for free and earn HB$28 points at
www.28Mall.com/s/P37
PARROT BEBOP 2 & SKYCONTROLLER BLACK EDITION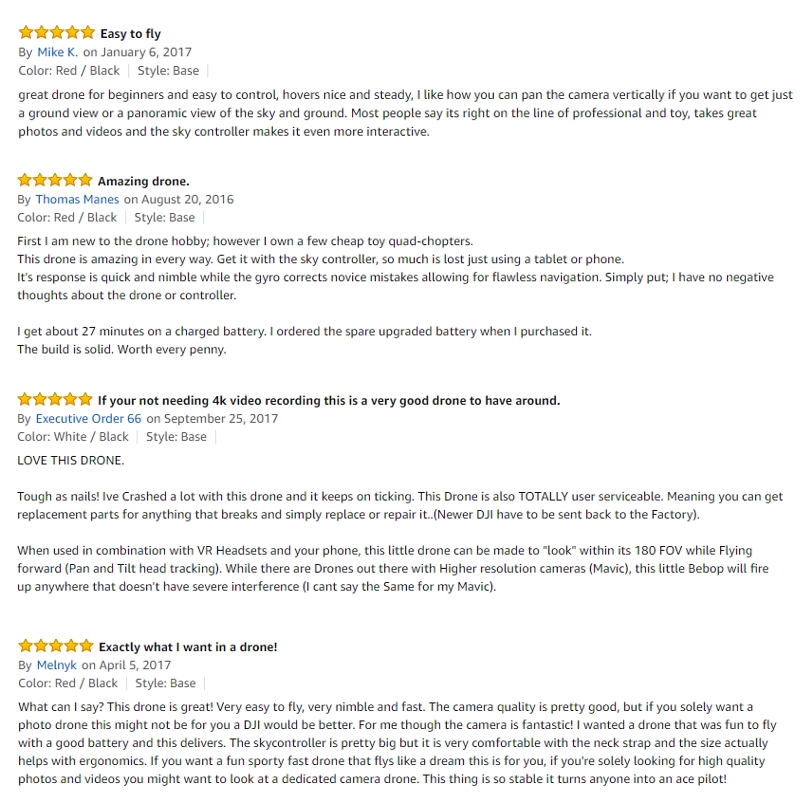 The ultimate pack for flying further, more intensely.
Controlled using the Parrot Skycontroller Black Edition, the Parrot Bebop 2 drone is even more effective and precise. Capable of flying up to 1.24 miles, it lets you venture further and explore previously inaccessible places. Its camera is easy to position to take professional-quality pictures. So do you want to be a pilot, a director or a photographer? You're spoilt for choice!
FILM AND TAKE PHOTOGRAPHS LIKE A PROFESSIONAL
The Parrot Bebop 2 is lightweight and compact. The epitome of a leisure drone, it's easy to transport so you can take it anywhere. Whether for filming or taking photographs, its full HD camera captures the most beautiful moments from the sky. Control its angle easily with the Parrot Skycontroller Black Edition. If you're amazed by what you see in the live video feed then simply press the button to take a photo and preserve that special moment!
SEND IT FAR AND EXPLORE
Through the optimised, secure Wi-Fi connection of the Parrot Skycontroller Black Edition, you'll discover long-distance flight. You might barely be able to spot your Parrot Bebop 2, which flies at a range of up to 1.24 miles, but you'll see through its eyes via the video feed on your tablet. Now's your chance to truly explore!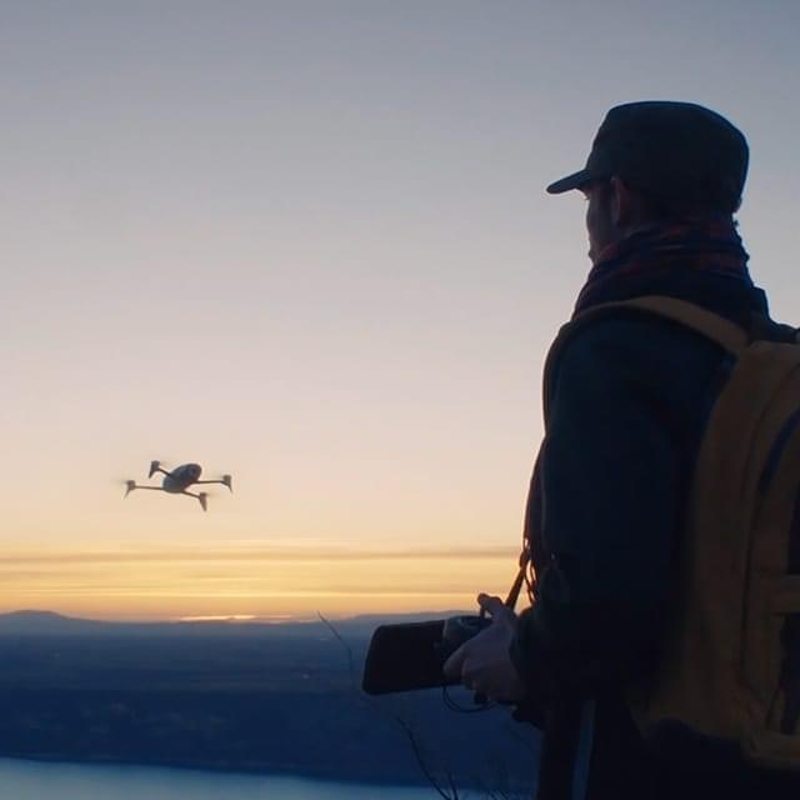 CONTROL EACH STEP OF ITS FLIGHT PATH
Send your Parrot Bebop 2 wherever you like: the Parrot Skycontroller Black Edition is equipped with GPS so you always know where your drone is. Simply press the "Return home" button, and it comes right back to you. Your drone is at your beck and call!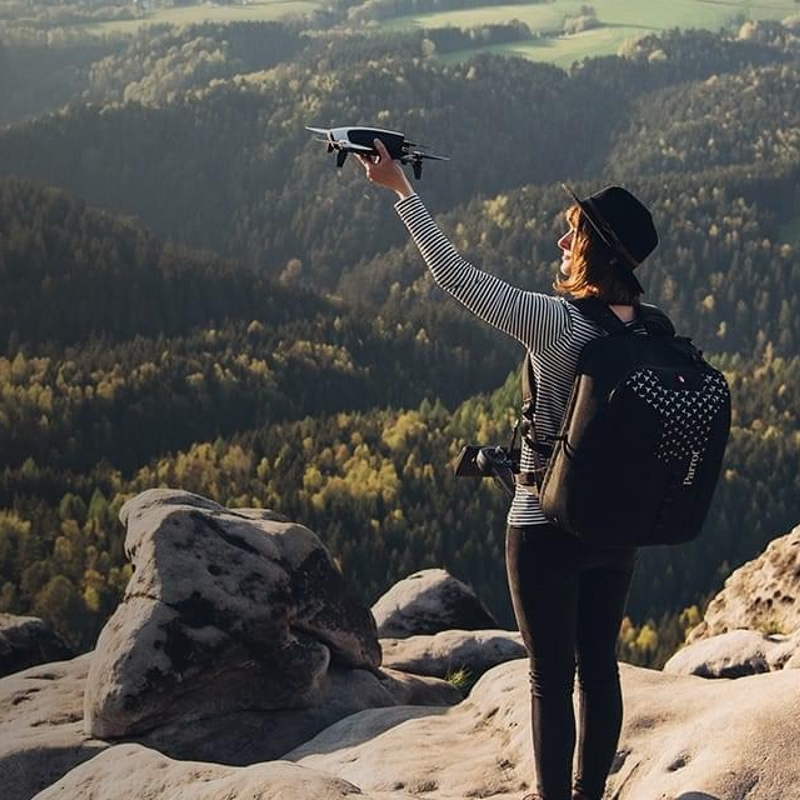 EMBARK ON A TRUE PILOTING EXPERIENCE
Once connected to your Parrot Bebop 2 drone, the Parrot Skycontroller Black Edition grants you sweeping powers and increases flight precision. Take off and land with a single button, receive real-time flight information, and even perform loops as you control your Parrot Bebop 2 with its two practical, ergonomic joysticks. 25 minutes of pure pleasure!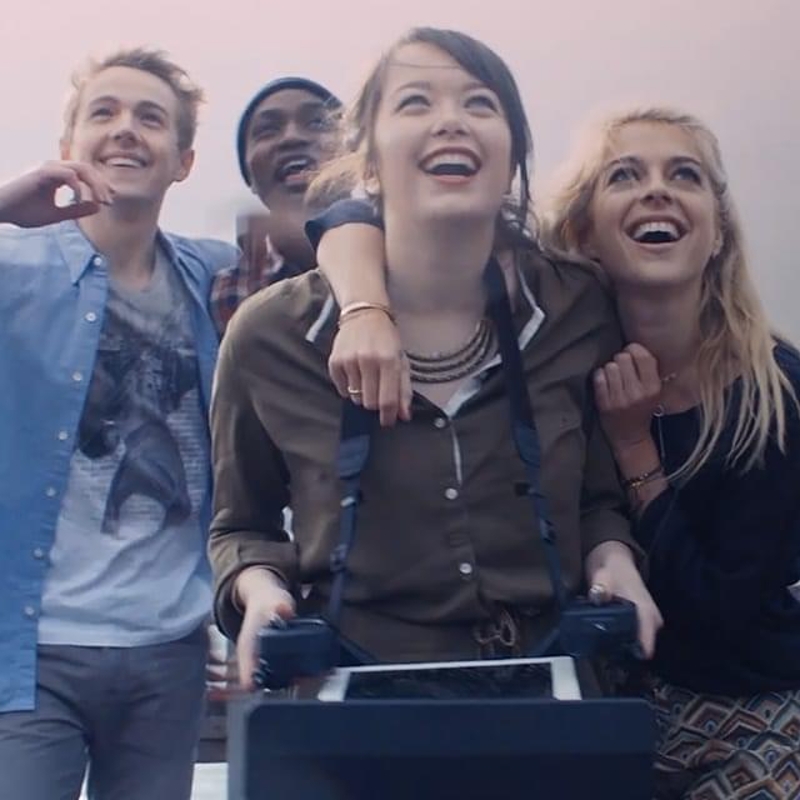 FOLLOW ME - GPS & VISUAL TRACKING
Capture your best moments from the sky with high precision. With the Follow me feature, capture your best moments with high precision thanks to the use of advanced visual recognition technology and the GPS tracking system on your Smartphone. Cycling, running, rowing, climbing… Everything is possible! Leave your Smartphone in your pocket and let your drone film you in your everyday activities with complete autonomy.
The "Follow me - GPS & visual tracking" feature is available as an in-app purchase in your Freeflight Pro application.
Parrot BEBOP 2 & SKYCONTROLLER Black Edition
Treat yourself to the most thrilling flight sensations!
1 Parrot Bebop drone
1 Skycontroller Black Edition
2 batteries (2700 mAh)
1 Charger + cable + US/JP/UK/EU/ANZ adapters
1 USB cable
8 Propellers
1 Propeller assembly tool
1 Strap
1 Sunshield (with iPad mini adapter)
1 7" Tablet dock adapter
1 Quick-start guide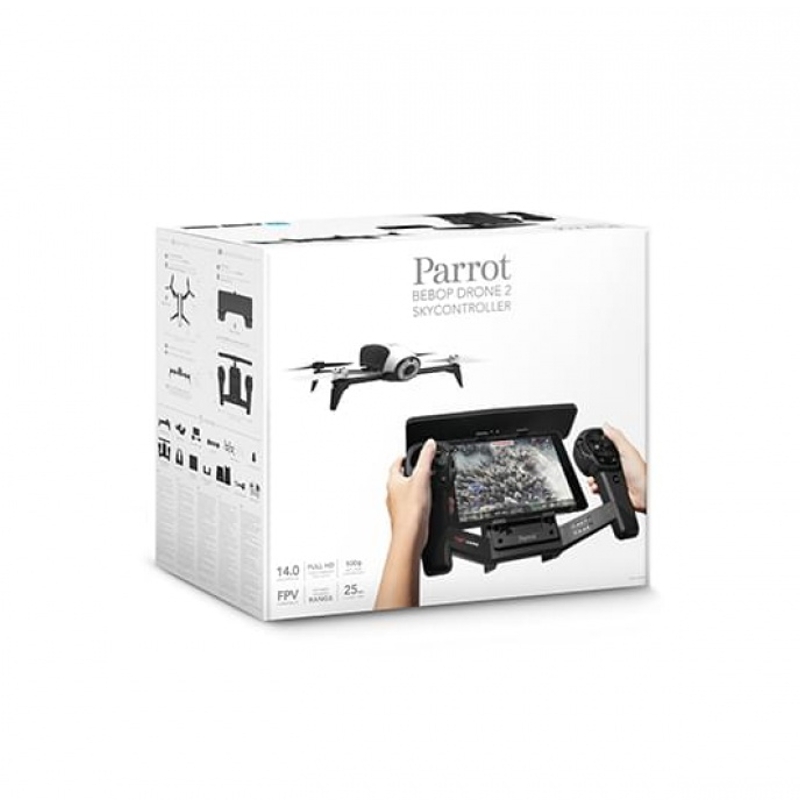 Parrot Bebop 2 Drone
Overvie
w
The Parrot Bebop 2 Drone gives you superior flight performance with easy and intuitive piloting from your iPhone or iPad. Lightweight and compact, the three-axis digital stabilization technology allows for stable and clear aerial footage so you can confidently fly in all conditions.
A powerful rear flashing LED provides improved visibility while an increased battery life means you can enjoy up to 25 minutes of flight time. The easy-to-use FreeFlight 3 control app allows you to access all of the essential functions, such as piloting, photos/videos, flight plan, speed settings, and altitude. The Parrot Bebop Drone synchronizes in real time with your iPhone or iPad so you can instantly share your best photos on Facebook or Instagram and showcase your flights on YouTube.
Highlight
s
Three-axis digital image stabilization technology allows Bebop 2 to take stable and clear aerial footage in all conditions and angles
25 minutes of flight time with 2700 mAh battery
Robust and flexible central body with reinforced single arms
Fly up to 40 mph with aerodynamic propellers
Lightweight and compact, weighing only 17 oz.
8GB of flash memory storage
Synchronizes in real-time with iPhone or iPad so you can share best moments instantly on social media
Records video in full HD and takes 14 mega pixel photographs
Control camera by simply moving your thumb across screen of iOS device
Compatible with Parrot Skycontroller—a high-end remote control which extends the flying range to 1.2 miles
FreeFlight 3 piloting app
Did You Notice
?
The Parrot Bebop 2 drone has flexible propellers which lock in place in the event of contact.
Apple Recommends Fo
r
Experiencing the thrill of piloting your own drone using an app on your iPhone or iPad.
What's in the Bo
x
Parrot Bebop 2 drone
2700 mAh battery
Charger, cable, and four supply plugs
Eight propellers
Propeller mounting tool
Micro-USB cable
Quick Start guide
Tech Spec
s
Other Features : Wireless
Connections : Wireless
Bluetooth Compatiblity : Bluetooth 2.0 Compatibility
Batteries : Rechargeable lithium-ion
Height : 3.5 in./8.9 cm
Length : 12.9 in./32.8 cm
Width : 15 in./38.2 cm
Weight : 17 oz.
Manufacturer Informatio
n
Part Number
UPC or EAN No. : 3520410035937
Warranty
Note : Products sold through this website that do not bear the Apple Brand name are serviced and supported exclusively by their manufacturers in accordance with terms and conditions packaged with the products. Apple's Limited Warranty does not apply to products that are not Apple-branded, even if packaged or sold with Apple products. Please contact the manufacturer directly for technical support and customer service.

Compatibility
iPhone Models

iPad Models

iPod Models

iPhone X
iPhone 8
iPhone 8 Plus
iPhone 7
iPhone 7 Plus
iPhone 6s
iPhone 6s Plus
iPhone 6
iPhone 6 Plus
iPhone SE
iPhone 5s
iPhone 5c
iPhone 5

iPad Pro 10.5-inch
iPad Pro 12.9-inch (2nd Generation)
iPad Pro 12.9-inch (1st Generation)
iPad Pro 9.7-inch
iPad
iPad mini 4
iPad mini 3
iPad mini 2
iPad mini
iPad Air 2
iPad Air
iPad (4th generation)

iPod touch 6th Generation
iPod touch 5th Generation
iPod touch 4th Generation
iPod touch 3rd Generation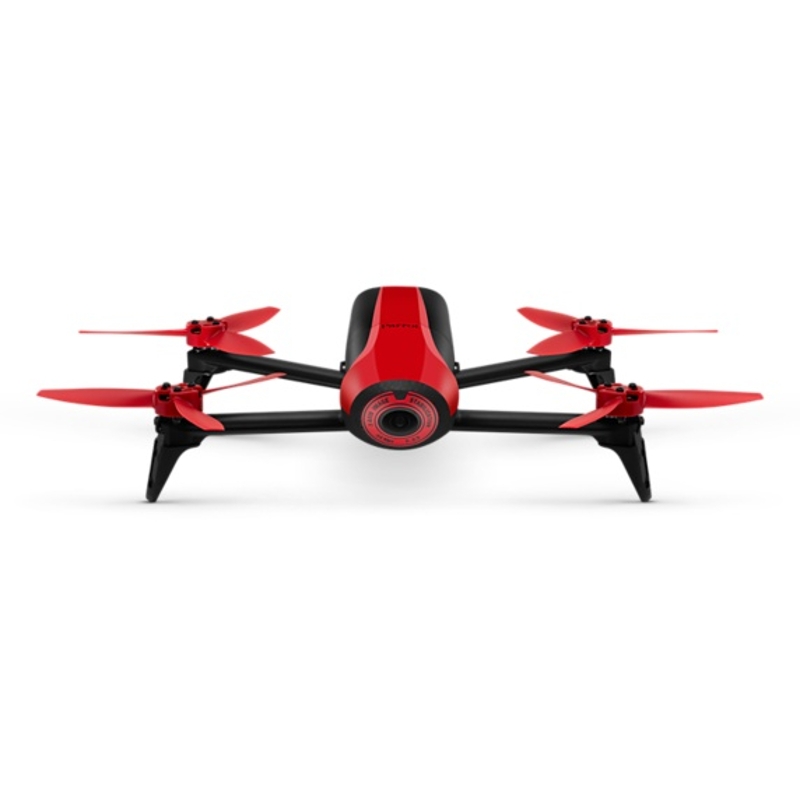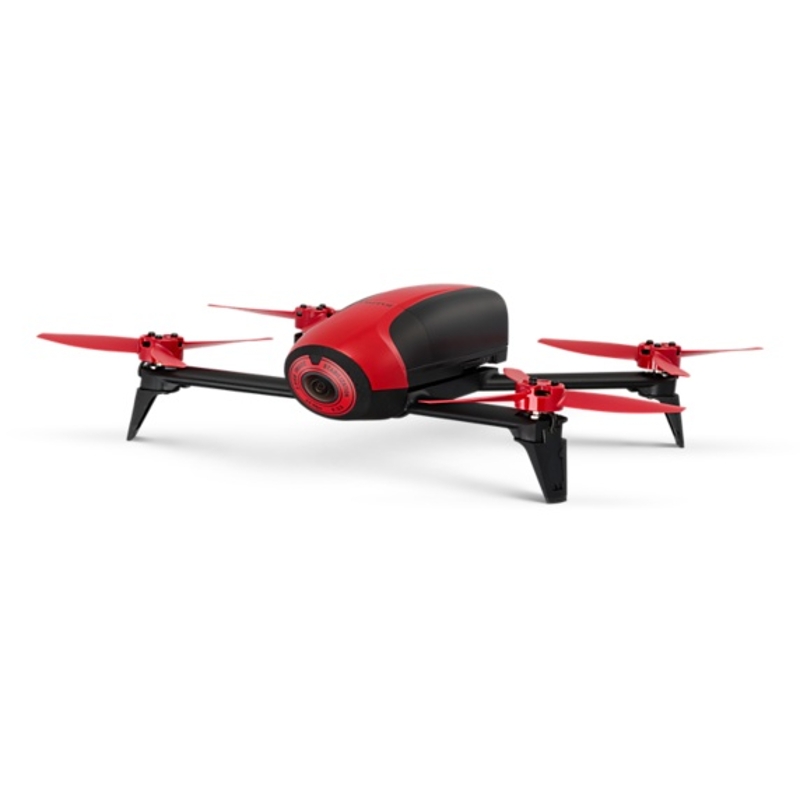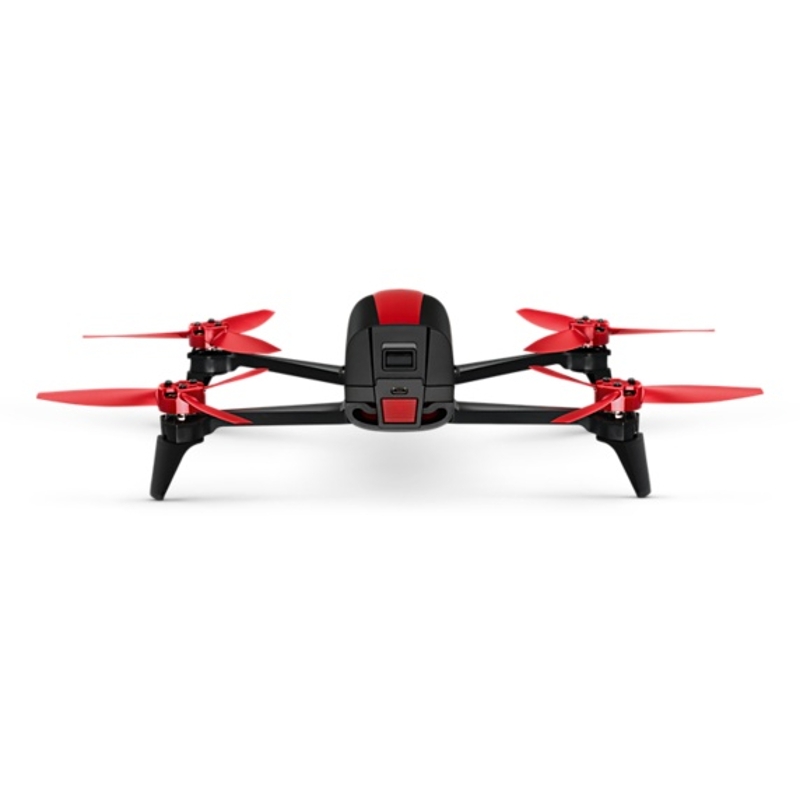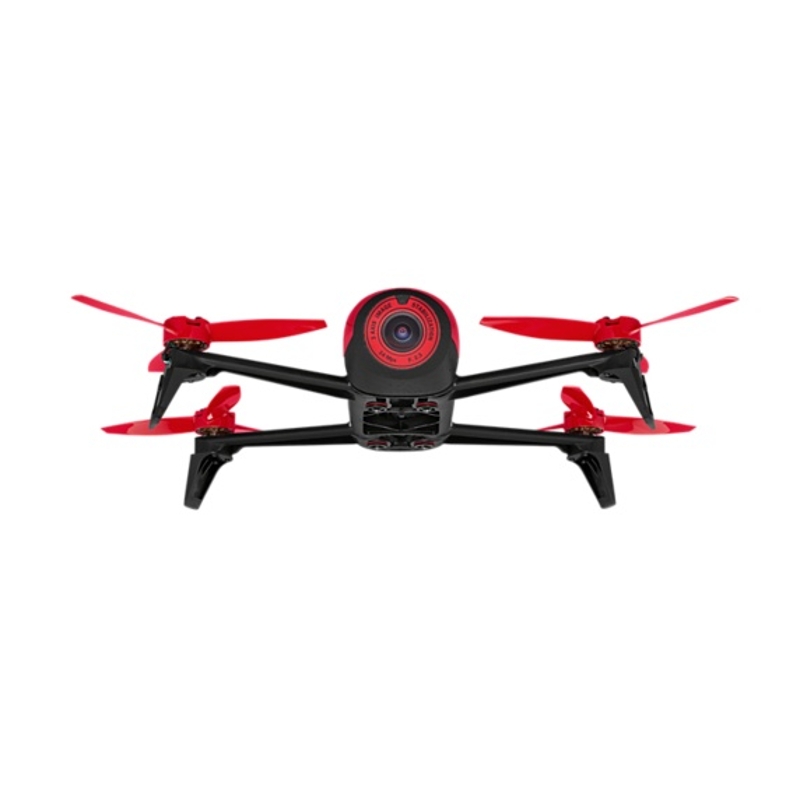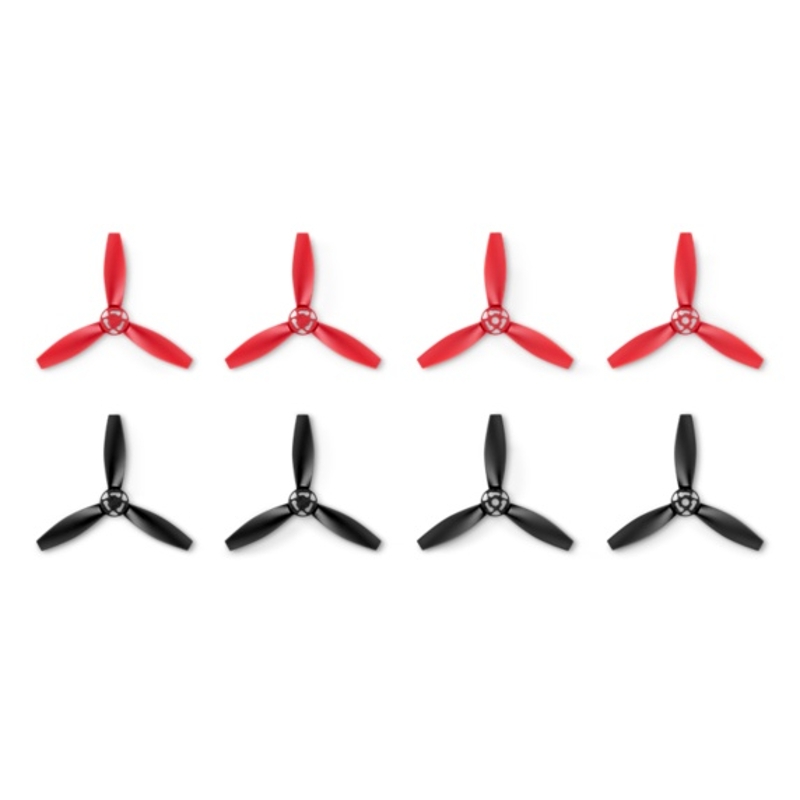 View 100% HB$ Deals terms & conditions
100% Good
Total 0 persons submitted
Excellent(100%)
Good(0%)
Poor(0%)
You can submit review too.
PriceUS$313.90 Weekend Sale 3 Sales Discount Shopping.