SKU:LLEG-S3
Brand:L'action
L'Action 1 Camomile Eye Stick + 2 Mud Masks - Made in France
Made in France.
L'Action Value pack! 2 packs of Mud Masks x12g / 15g (Random types will be given) + 1 Eye Lifting Gel 15ml.
Mud Mask can use for 2 to 4 times application per pack.

L'ACTION Camomile Eye Stick
Made in France
Weight : 4g

Descriptions:
Enriched with extract of fig, this refreshing stick soothes and tones tired eye contours and helps to relax drawn eyes. Camomile, renowned for its decongestant properties, produces brighter eyes and instantly relaxes the eye contours. Ideal for those days that follow celebrations.

Ingredients :

Chamomile extract : this active ingredient is known for its anti-inflammatory, soothing, calming and softening properties. It induces a relaxing effect thanks to its unclogging abilities.

Menthyl PCA : this active ingredient works effectively to create a long-lasting feeling of freshness. It is hydrolysed for several hours by esterase enzymes in the skin to release the menthol, thus producing a refreshing feeling. The pyroglutamic acid (PCA) is a natural moisturising factor that is also released to contribute to revitalising the skin.

Alpha bisabolol : obtained from essential oil of Candeia tree native to Brazil, natural alpha bisabolol is known for its soothing, anti-inflammatory and anti-bacterial qualities. Proven effectiveness in calming sensitive and hyper-reactive skin irritation. Simultaneously soothing and repairing, it relieves and restores cutaneous comfort.

Organic carciline : this active ingredient improves cutaneous hydration levels. It plays a preventative role in cutaneous ageing by smoothing the epidermis, improving skin suppleness to increase skin softness and ensuring cutaneous homeostasis is maintained. In doing so, it ensures skin is fully equipped to serve as a barrier against external factors. Its exceptionally refreshing effect makes it soothing and relaxing.

Allantoin : an active ingredient with hydrating and soothing properties.

Use
Apply one or more times throughout the day by smoothing the stick over the area around the eyes before applying your usual make-up, or when needed. Keep away from children.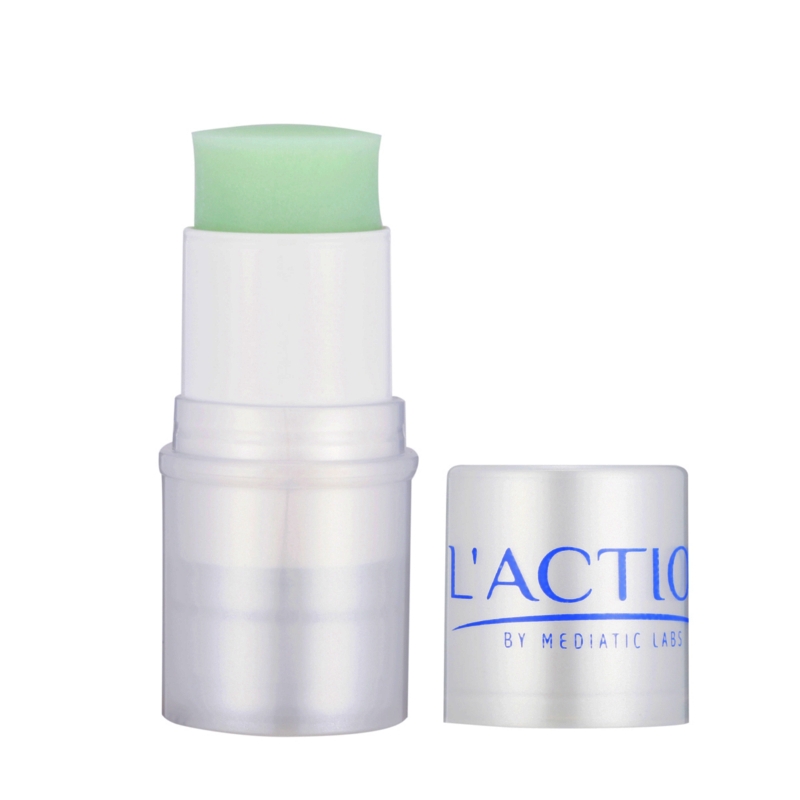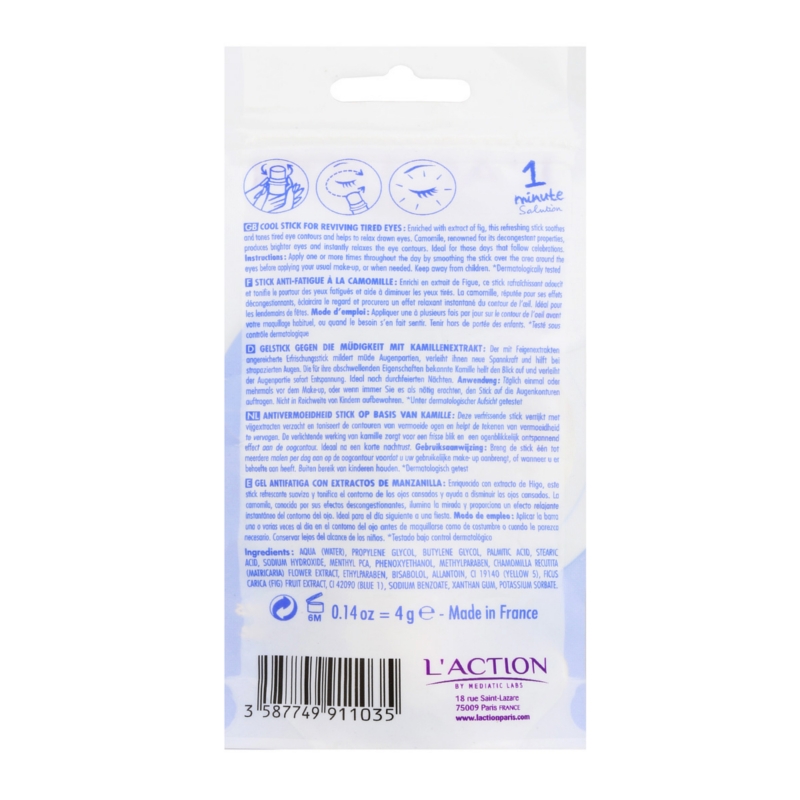 L'Action Radiance Face Mask
Weight : 15g
2 to 4 times application.

Descriptions
The gorgeous Radiance Mud Mask helps your face to regain its tone, luminosity and vitality. Featuring the essential oils of Carrot and Cypress, infused with energising minerals, this luxurious mask soothes your skin whilst rejuvenating the natural radiance of your complexion.
• Revitalises your complexion.
• Purifies and cleanses your skin.
• Your complexion appears refreshed, radiant and glowing.
• Soothes and energises your skin.
Ingredients:
• Carrot Essential Oil - regenerative and vitalizing properties to enhance your skin's natural beauty.
• Cypress Essential Oil - creates toning and a vibrant appearance.
• Sesame Oil - rich in essential fatty acids, it regenerates, nourishes and softens the facial tissue. This antioxidant oil protects skin from cellular ageing.
• Sepitonic TM M3 - boasts an energizing effect that stimulates energy in skin cells, allowing cellular respiration.
• Pink Clay - gently eliminates impurities and restores radiance.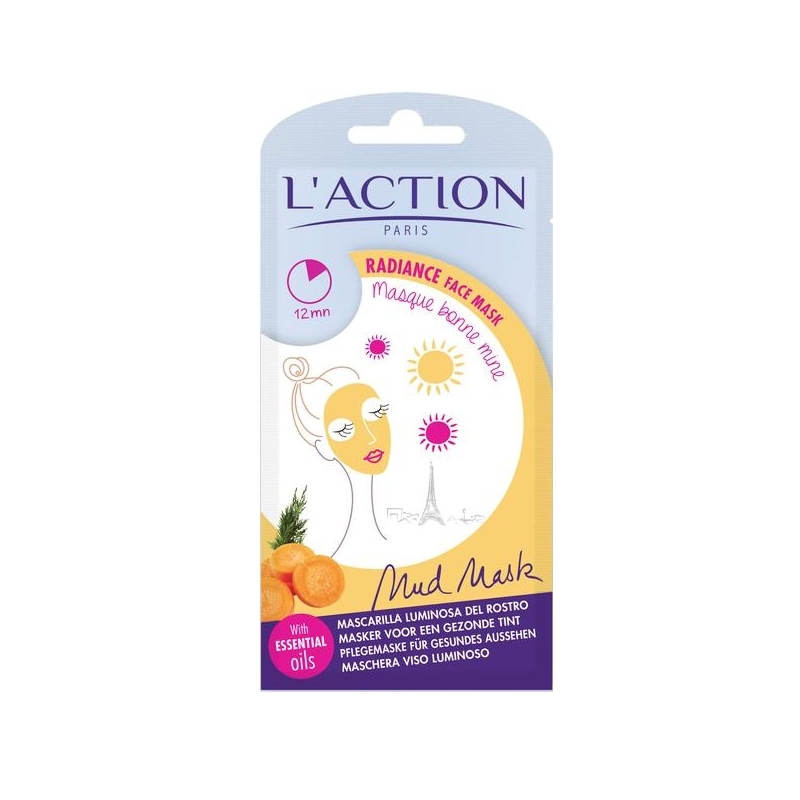 L'Action Radiance Mud Mask
Weight : 12g
2 to 4 times application.
Descriptions
The Guarana Mud Mask energises, tones and softens your skin. Close your eyes and allow the delicious subtle aroma of mangos to transport you to the heart of Brazil. Rich in extracts of Guarana and Acai Oil, this mask rejuvenates and helps to protect against cellular ageing.
• Energizing and Anti-oxidising face mask.
• Tones and softens your skin.
• Helps protect against the effects of ageing.
• Fragrance: Mango

Ingredients
• Guarana Extract - stimulates cell regeneration and toning thanks to its Caffeine and Vitamin content.
• Shea Butter - improves skin moisture levels and boosts elasticity. Incredibly rich in vitamins, it protects skin from the harmful effects of the sun, softening and regenerating damaged skin.
• Cupuacu Butter - helps delay the effects of ageing. Boasts very powerful water-retaining capacities, adding volume and smoothing wrinkles with long lasting hydration.
• Açai Oil - a powerful antioxidant, it regenerates, soothes and repairs. With high Omega 9 content, it boosts skin suppleness and firmness.
• Brazil Nut Oil - rich in unsaturated fatty acids and minerals, this oil is a source of selenium and adds elasticity to skin.
View 100% HB$ Deals terms & conditions
100% Good
Total 0 persons submitted
Excellent(100%)
Good(0%)
Poor(0%)
You can submit review too.
PriceUS$20.72 L'Action 1 Camomile Eye Stick + 2 Mud Masks - Made in France Sales Discount Shopping.