SKU:MO-Cookies-D
Brand:Mason Original
Mason Original Durian Cookies
Flavor: Durian
Packaging : 100g per plastic container.
Mason Original mini durian cookies is processed from durian paste, which is a famous fruit in Malaysia. Its original taste and flavor of durian make it most popular and liked by many Malaysian.
Ingredients: Durian, tapioca flour, coconut, sugar.
Malaysia traditional snacks consists of food traditions and culture & practices found in Malaysia, and reflects the multiethnic makeup of its population. The vast majority of Malaysia's population can be divided into three major ethnic groups : Malays, Chinese and Indians. The remainder consists of the indigenous peoples of Sabah and Sarawak in East Malaysia and the Orang Asli in Peninsular Malaysia.
As a result of historical migrations, colonisation by foreign powers, and its geographical position within its wider home region, Malaysia's snack in the present day is primarily a mix of traditions from its Malay, Chinese, Indian, Indonesian and ethnic Bornean citizens, with heavy to light influences from Thai, Portuguese, Dutch, and British cuisines, to name a few. This resulted in a symphony of flavours, making Malaysian snacks highly complex and diverse.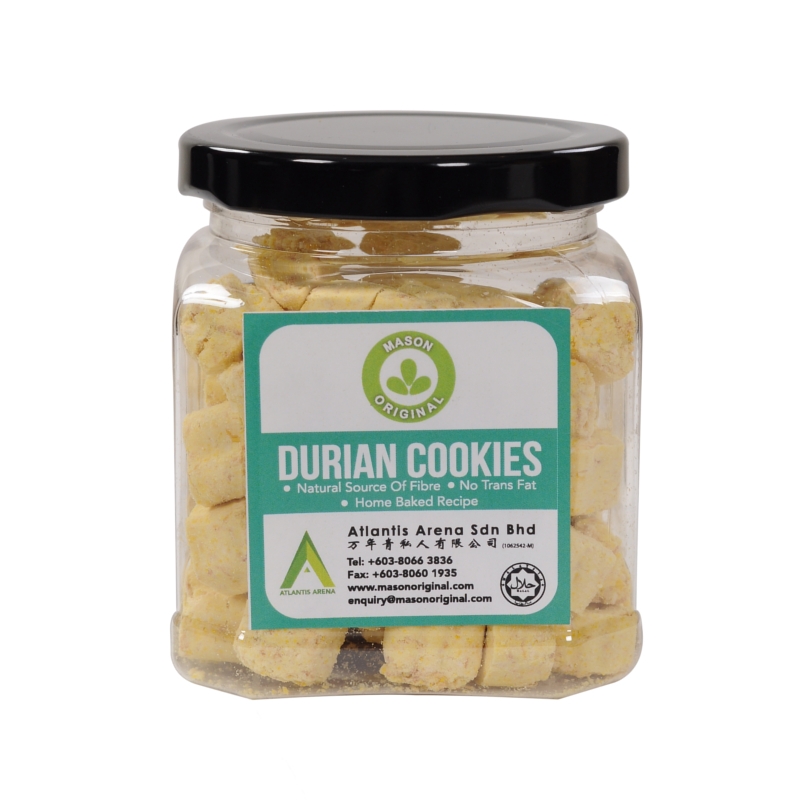 View 100% HB$ Deals terms & conditions
100% Good
Total 0 persons submitted
Excellent(100%)
Good(0%)
Poor(0%)
You can submit review too.
PriceUS$2.70 Mason Original Durian Cookies - 100g Sales Discount Shopping.