SKU:BEBELAC1800G
Brand:Bebelac
Human breast milk is the best source of nourishment for human infants.
As an alternative, it is important to choose an infant milk that has been specifically formulated to provide similar benefits to breast milk.
Nutrition Information per 100ml prepared feed:

Energy 275kJ/ 66kcal
Protein 1.3g
Whey 0.8g
Casein 0.5g
Carbohydrate 7.3g
-of which, sugars 7.3g
-of which, lactose 7g
Fat 3.4g
-of which, saturates 1.4g
-of which, unsaturates 1.9g
-of which, LCPs* 0.024g
Arachidonic acid (AA) 0.011g
Docosahexaenoic acid (DHA) 0.010g
Fibre 0.6g
Sodium 17mg

Vitamins:

Vitamin A 54µg-RE
Vitamin D3 1.2µg
Vitamin E 1.1mg α-TE
Vitamin K1 4.4µg
Vitamin C 9.2mg
Thiamin (B1) 0.05mg
Riboflavin (B2) 0.12mg
Niacin (B3) 0.43mg
Pantothenic acid 0.34mg
Vitamin B6 0.04mg
Folic acid 13µg
Vitamin B12 0.21µg
Biotin 1.4µg

Minerals:

Potassium 68mg
Chloride 42mg
Calcium 57mg
Phosphorus 32mg
Magnesium 5.1mg
Iron 0.53mg
Zinc 0.52mg
Copper 0.040mg
Manganese 0.008mg
Fluoride ≤0.003mg
Selenium 1.7µg
Iodine 12µg

Others:

L-carnitine 1.6mg
Choline 12mg
Inositol 3.9mg
Taurine 5.3mg
Nucleotides 3.2mg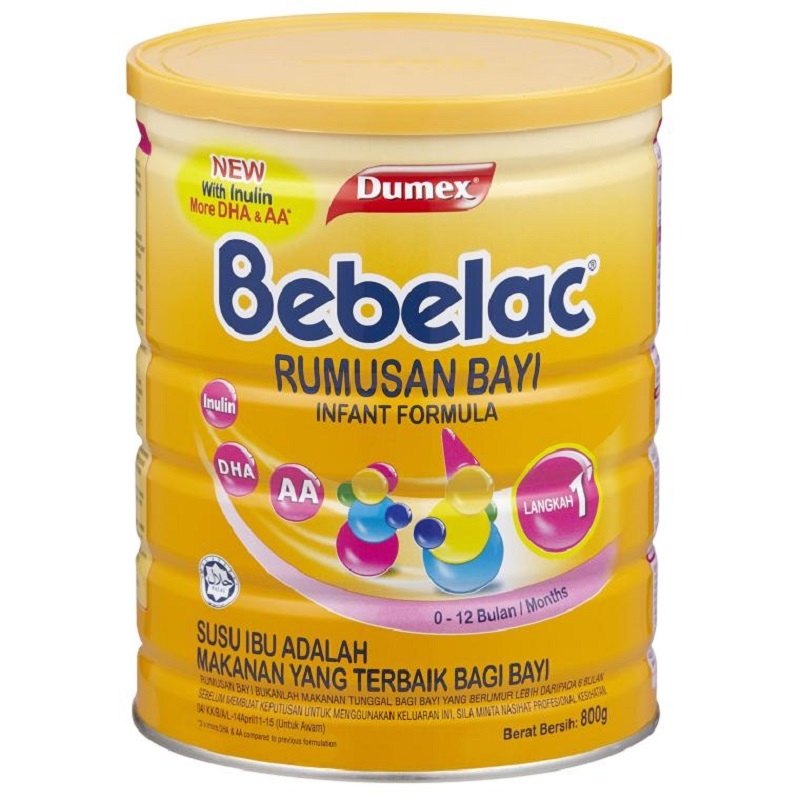 View 100% HB$ Deals terms & conditions
100% Good
Total 0 persons submitted
Excellent(100%)
Good(0%)
Poor(0%)
You can submit review too.
PriceUS$11.95 Bebelac Infant Formula Step 1 (800g) Sales Discount Shopping.