SKU:1-NE TIL Ser 30
Brand:NOVEXPERT
Novexpert The Instant Lifting Serum 30ml
Made in France


Lifting serums have been often criticized to act only few hours and only on skin surface.
Their use was in consequence reduced to given time: important meeting, jetlag, night event...
So why not imagine a more global care, more useful: a formula which integrates collagen boosters, hyaluronic acid; a care which acts immediately but also durably...
A Serum which can be used punctually or regularly!
PROPERTIES & GUARANTEE
Instant LIFTING action *: Two powerful botanical tensor agents, reinforced with hyaluronic acid, lift the skin with immediate smoothing action.
Enhanced RADIANCE in 14 days*: A rapsberry and apple complex with a "peachy skin" effect adds lasting radiance to the face
* Use test among 50 consumers over a 28 day period.
The 1st anti-aging care guaranteed and certified:
0% chemical, 0% preservatives
and 100% hypoallergenic.
DESCRIPTION
Packaging: 30 ml pump.
Product formulated, developed, made and assembled in France.
PRESCRIPTION
Age & Skin type: From 28 years - unisex. For all skin types.
Dermatological profile: Expression lines, crows feet and around the mouth wrinkles, photoaging, thin skin with numerous lines.
Way of life: Occasional fatigue, jet lag, chronic stress, slimming diet, smokers.
ACTIVE & INGREDIENTS
For more information about the ingredients of this formula, click on this link to reach the product INCI list.
ANTI-AGING ACTION
Novaxyline algae (patented):
- Anti-inflammatory
- Anti-free radicals
- Genetic sirtuins stimulation
Vitamin E complex:
- Anti-free radicals
LIFTING ACTION
Hyaluronic acid:
- Smoothing on the surface + Mosturizing
Acacia extract:
- Lifting
Baobab pulp:
- Lifting & skin pores shrinking
REPULP ACTION
Fragmented hyaluronic acid:
- In-depth repulp action
RADIANCE ACTION
Vitamin C complex + quercetin (peach):
- Radiance + Anti-oxidant
Vitamin C complex + malic acid (apple):
- Radiance
Vitamin C complex + citric acid (raspberry):
- Radiance
OTHER ACTIONS
Evening primrose oil:
- Nourishing
Polysaccharides:
- Moisturizing
Vegetal glycerin:
- Moisturizing
Aloe vera gel:
- Soothing
Pomegranate extract:
- Anti-free radicals
Tea extract:
- Anti-free radicals
Broccoli extract:
- Photoaging protection
Milk thistle extract:
- Photoaging protection
EXPERT ADVICES
Apply small dabs on the entire face and neck starting in the facial T-zone and working up to the temples. Smooth over the forehead from the frown line outwards. Morning and/or night. Only a small amount of product is needed.
Before make-up, let it penetrate your skin for 5 minutes.
For the skin which require more confort, wait 5 minutes before applying a cream. This care may be applied to targeted areas : wrinkles around the lip contour, neck-smile line and for specific occasions : before an evening out, to enhance make-up, when jetlagged or the morning after a late night .
You must have placed a minimum order amount based on the 100% HB$ redemption value within 30 days before you wish to order for the 100% HB$ deals. Check out the pre-order amount and View 100% HB$ T & C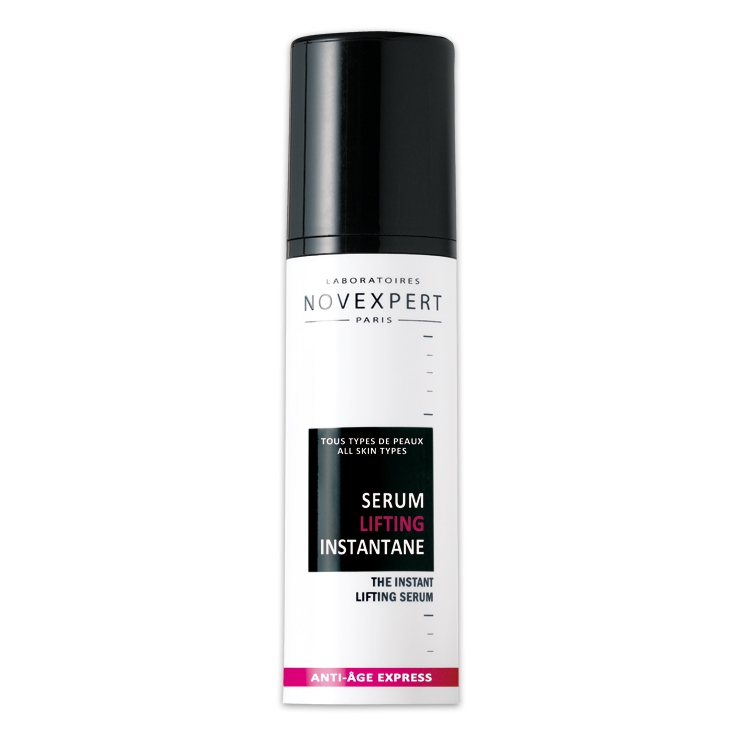 View 100% HB$ Deals terms & conditions
100% Good
Total 0 persons submitted
Excellent(100%)
Good(0%)
Poor(0%)
You can submit review too.
PriceUS$54.95 Novexpert The Instant Lifting Serum 30ml Sales Discount Shopping.